4 Things You Need To Know About The Google Panda Update Unleashed 9 Years Ago
Yesterday, February 24, 2020, is the day that the Google Panda update turned nine years old. Released as an algorithm update, the day it was launched is probably one of the most unforgettable days for an SEO professional in their field of work.
February 24, 2011. In this exact date, 12% of the search results of Google were changed with just a press of a button. Google informed us that the goal of this update was to drop the sites' rankings which have "shallow" and "low quality" content. This Google Panda update had a huge effect on websites that are generating a large amount of money through Google search, as well as altered the way that content was written for the sites.
Panda has changed. Google use to work Panda updates all of the time. Those changes would usually locate new websites to hit or readjust those that were initially hit by the update following the improvements made on the sites. Today, Panda is a part of the core ranking algorithm, and the search engine giant doesn't run standalone updates for Panda anymore. It's unusual to hear a Googler or perhaps an SEO expert discussing Google's Panda updates nowadays.
SEO has changed. Panda is just one of the algorithms you can go back to and point out that it did transform the way SEOs do their job. It didn't just change SEO, it changed how sites produce and establish their content. Similar to the previous Penguin updates, and the more recent Core updates, website owners and SEO professionals must learn to adjust to create websites that Google considers to be worthy of receiving high rankings in the search results.
SEO is much easier today. With Panda and Penguin plus the new core updates, one can say that SEO is way more complicated now. But at the same time, Penguin and Google Panda update were targeted at minimising manipulation of ranking algorithms of Google at scale. Today, SEO experts have to concentrate on creating great sites, instead of attempting to find loopholes in the search ranking algorithm. Developing great sites is not that simple. But in the long term, it can allow you to future-proof your website from being hit by a brand new Google algorithm update.
This Is Why Sites Can Receive Google Penalty More Than Once
Google's John Mueller stated that a website that was penalised before can still get penalised again, and for the same exact issue. It's not like when you got attacked by a certain virus that if you managed to survive, you become immune to getting attacked by that same virus once again. In short, your website can receive a Google penalty for the same issue several times.
Here's exactly where John said this: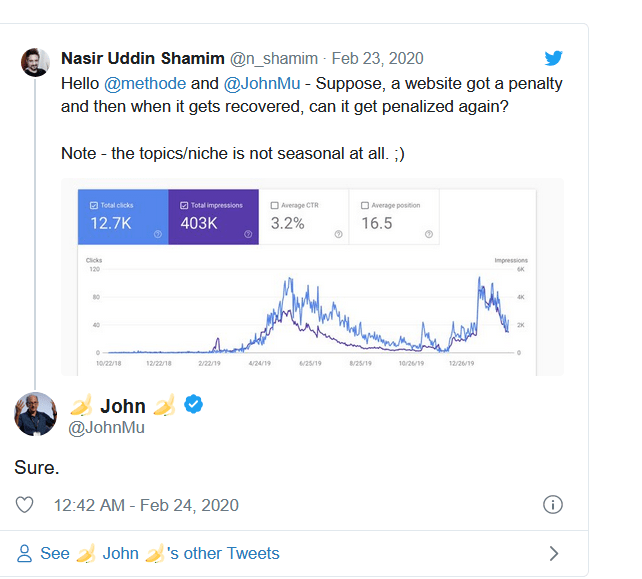 This is actually old news as there have been websites before that got hit for exactly the same issue numerous times.
As a matter of fact, Google has stated the next time you receive a manual action can result in longer and even harsher penalties.
Though, it will be awesome if a website could be immune to a Google penalty it received before.
Information used in this SEO UK blog came from https://searchengineland.com/google-unleashed-the-panda-algorithm-9-years-ago-today-329599 and https://www.searchenginejournal.com/link-building-guide/bad-links-risky-tactics/. For further details, head over to these links.
Achieving the top of the search engine results page is not easy work. For such reason, it is advisable that you only work with trusted SEO agencies. To know more, go to the Position1SEO homepage right now.