What is SEO content writing?
It is a well-established fact that good SEO can be the difference between your website ranking at #1 on Google or languishing on the later pages of the search engine results. Sparkling SEO content can be the key to your success.
While there are multiple aspects to good SEO, one of the cornerstones is well-written SEO content. That means text that is not only perfectly optimised and readable by Google but also offers a great deal of value to your target audience.
At Position1SEO, having worked with hundreds of clients in the past, we have mastered the art of coming up with the perfect plan for creating content across your website. Our content not only does wonders for your rankings but also encourages a high conversion rate from visitors to paying customers. In short, it's a great investment offering an impressive ROI.
Are you ready to leverage quality SEO content for your business? Get in touch with us today to take the conversation forward. We'll also send you case studies of our past clients so you can see the difference we could make.
The phrase 'SEO content writing' makes the process sound highly technical and a little scary. But before you panic and think you can't possibly tackle the challenge yourself, it's worth explaining what lies behind the term. Essentially, when you're writing search engine-optimised content, what you're trying to do is write copy that appeals to your existing and prospective customer base.
"But what about the search engines?" you may ask. Well, obviously, we all want our websites to appear high on Google's rankings. However, Google is also spending a lot of time and resources on working out what its own users' intent is when they search for information or to buy through its engine. That actually makes life much simpler for the content marketer. All we have to do is know our audiences, write the kind of stuff they want to read, and Google will approve.
Of course, it's not quite as simple as all that. There's some technical stuff that needs doing behind the scenes, too, to make sure Google sees and can read all your webpages. But in terms of writing great SEO contents, knowing and understanding your own audiences will take you a long way.
In practice, knowing your audiences means identifying the words they use when searching for your products and services. If you can incorporate these search terms naturally into your content and flag them up in all the right places to search engines like Google, you've hit on a winning formula. You'll be answering the questions your prospective customers need answering, and that will encourage them to buy your goods instead of your competitors' market offerings.
There's one other aspect that can prove very useful in encouraging search engines like Google to rank your pages higher, and that's the measure of authority your pages have. In simple terms, this means how many times people are referred to the SEO content marketing on your website from other sources. This process is called linking. You should, of course, use linking within your own content to point people who want more information to other web pages you've created. That increases the utility of your website, makes it easy for users to find what they're looking for, and keeps them on your website for longer.
Backlinking is where other websites include links to yours. One important thing to remember is that it's not the quantity of backlinks that counts as much to Google as the quality of those links. Ever since Google rolled out its Panda and Penguin updates, quality has been at the heart of all the search engine does when ranking websites for its end users.
Take the effort out of SEO content writing
You know your business, its products, and its services better than anyone, so there's a good argument for writing your website copy yourself. But at the same time, many business owners, large and small, understand that writing for SEO is not a simple task. It can be time-consuming and labour-intensive. More often than not, it's a task that gets put on the back burner, especially in busy periods.
But websites benefit from having great copy that's refreshed and added to on a regular basis. So if you want a website that ranks higher in the search engine results, you've got to write, write well, and do it frequently. Most businesses just don't have time to keep up with that alongside their day-to-day activities. And that's where SEO agencies like Position1SEO come in.
We have the technical knowledge to tweak aspects of your website so that it's not just easy for search engines to find, crawl, and index your pages. We can also assess whether there are any aspects that are holding it back from ranking more highly in Google's search results. This might include details like page speed loading time, mobile responsiveness, and accessibility.
We are also experts in SEO content writing services. We will get to know your business and carry out research to determine which are the most effective keywords – the ones your ideal customers are likely to use when searching for companies like yours. Our writers also draft reliable, informative, and engaging copy that will attract viewers and keep them on your website for longer. What's more, we include the right calls to action in all the right places to convert visitors from viewers to buyers, engaged audiences, or future warm prospects. That's called Conversion Rate Optimisation, and we include this as standard.
We do all this as part of our various SEO packages, which can be adapted for any size of business, from start-ups to established concerns looking to grow. We offer something for every marketing budget, no matter how large or small. As part of these packages, or separate if you prefer, we additionally offer link-building by the experts at Position1SEO: we attract and engage with reputable websites and encourage them to point back to yours, giving you credibility and authority in Google's eyes.
We've been working in the SEO industry for over a decade now and have always stayed at the forefront of what Google and other major search engines are looking for in a website. We've delivered great results for a vast range of businesses, many of which have been working with us for several years. We can get and keep you at the forefront of the search results with SEO-optimised content and other tools so you naturally and organically attract more site visitors and, ultimately, more paying customers. And we do all this in legitimate ways, using what you will have seen referred to as white hat techniques.
If you'd like to know more about what we do and how we do it, our website, https://position1seo.co.uk/, gives you a lot more information throughout so you can make an informed decision on whether to work with us. We also offer an initial free consultation or site audit so we can start to get to grips with what you want to achieve and how we could make that happen. To book yours, just fill in the form on our website or give us a call on 0141 404 7515.
Hit the #1 spot for your industry with Position1SEO. Unlike many of our competitors, we deliver on our promises every time.
Exceptional customer service at Position1SEO - Your trusted SEO partner
At Position1SEO, we pride ourselves on providing exceptional customer service to all our clients. We understand that SEO is a complex field, and our team of seasoned experts is committed to guiding you through every step of the process. From your initial consultation to the final delivery of your project, our team is here to offer you professional and friendly support.
Our approach is personalised and tailored to meet your unique needs. We track your progress and adjust our work accordingly to ensure you see quick results. You can trust us to provide reliable and trustworthy advice and recommendations.
We also offer free consultations to help you understand our services and make informed decisions. Our 5-star rating is proof of our commitment to delivering on our promises and exceeding our client's expectations. With 100% satisfaction guaranteed, you can trust us to be your long-term SEO partner.
Maximise your online success with our expert SEO content services
If you're serious about growing your online business in today's highly competitive digital age, then investing in effective and relevant content is an absolute must! Thanks to our proven and effective strategies, we can help you boost your website's ranking, increase traffic from search engines and improve your overall conversion rate.
At Position1SEO, we are committed to delivering the highest quality SEO services tailored to your specific business needs. Our team of experienced professionals uses cutting-edge SEO tools and techniques to help you achieve long-term success. With our help, you can create a powerful online presence that effectively transforms your business and takes it to new heights.
So if you're ready to take your business to the next level, don't hesitate - Contact our team today to learn more about our SEO services. Let us help you grow your business and meet all your online goals!

Features and benefits to boost your online presence with Position1SEO
Having a strong online presence is crucial for businesses to thrive and succeed. Position1SEO understands this need and offers a range of unique features and benefits to help you stand out in the crowded online marketplace. With our expertise in SEO-friendly content, we can help your business reach a wider audience. So without further ado, let's dive in and explore just what makes our services so special.
Boost your online visibility and get more clients through organic searches
Expand your reach and engage with a wider audience through intent-driven relevant keywords
Drive high-quality traffic to your website, increasing the probability of conversion
Support your other marketing efforts, like PPC strategies, to maximise your ROI
Establish your brand as an industry leader and create awareness among target audiences

Partnering with Position1SEO can take your online presence to new heights, opening up new opportunities for growth and success. Our specialised SEO content services will help you overcome your competitors and establish your brand as a go-to authority in the industry. So why wait? Contact us today to get started and take your business to the next level! You can also take a look at our blog page to learn more about SEO and how it can benefit you.
Transform your online presence with our SEO content
In today's digital age, having a robust online presence has become essential for businesses to thrive. At our SEO firm, we understand the importance of high-quality content in enhancing your brand's search engine visibility and reach. Our team of skilled professionals is committed to delivering high-quality and targeted content that will skyrocket your website's visibility and drive traffic to your site.
By partnering with us, you can rest assured that your content will be optimised for search engines, ensuring that your website ranks high on search engine results pages. Our tailored SEO strategies are designed to align with your business goals and meet your unique needs.
Take the first step towards improving your online presence today by partnering with us. Our team is eager to discuss your SEO needs and create a personalised strategy that will set you apart from the competition. Contact us now to get started!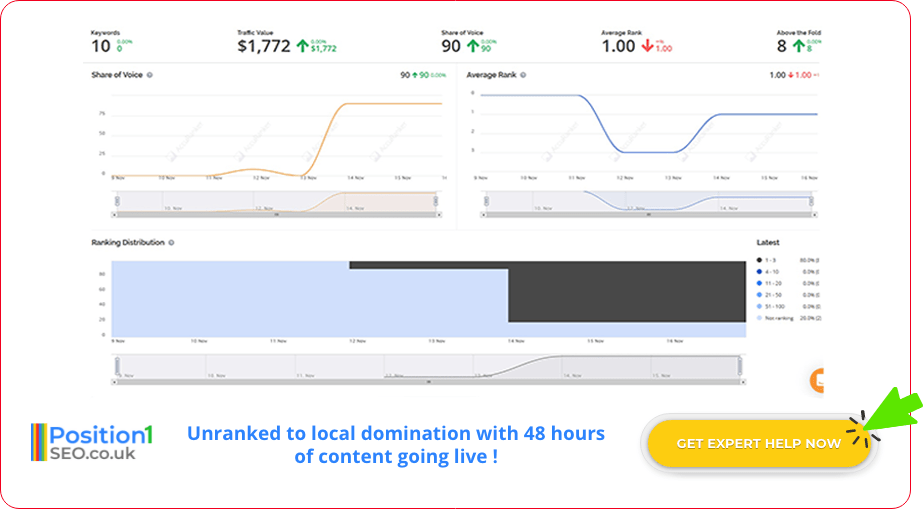 FAQs about SEO content
What is SEO content?
SEO content refers to website content that's created specifically to rank higher in search engines. It's optimised with targeted keywords and phrases to increase visibility and attract more organic traffic.
How can SEO content benefit my website?
Creating SEO content can benefit your website in many ways. It can improve your search engine rankings, drive more relevant traffic, increase brand awareness, and ultimately, boost your conversion rates.
How long does it take to see results from SEO content?
Seeing results from SEO content can take time and is dependent on a variety of factors, such as the level of competition, the quality of the content, and the speed of the search engine indexation process. In general, it can take 3-6 months or longer to see noticeable results from your SEO content efforts.
Can I handle SEO content creation on my own, or should I hire an expert?
SEO content creation on your own usually is not recommended as it can be time-consuming and challenging, especially if you're not experienced in the field. Hiring an SEO expert can help you save time and achieve better results. An expert can help you identify the best keywords to target, optimise your content more effectively, and evolve your content strategy over time.
How do you write SEO content?
Don't write for the search engines – write content that answers the questions your audience may have about your products. Intersperse content with keywords, but don't stuff it. Use them naturally. Create eye-catching headlines and use subheaders and spacing to make it easy for people to read. Use tagged images and draw readers in with social media. Monitor results regularly.
Is content important for SEO?
Content supports SEO and vice versa. You won't rank higher in search engines' or your customers' eyes unless you create high quality, meaningful, authoritative content that's SEO rich. The clichéd saying 'Content is king' really is true.
Hire a reputable SEO and content agency if you don't have the time or skills within your business to manage online content effectively.
Is SEO a form of content marketing?
Content marketing involves writing high-quality information for your website, blog, or social media that adds value to your readers. It should include a call to action to encourage them to interact with you or become a paying customer.
SEO uses a series of tools to make that content more visible and relevant, to attract more visitors to your site.
How do I optimise SEO content?
Introduce SEO into your on-page content strategy, don't just add it as an afterthought when content is written. Make sure it's supported by high-quality, informative writing. Use the right keywords in the right places and with optimum frequency.
Remember, user experience is important, so focus on layout, spacing, illustration with optimised images, and so on.
What is an SEO content strategy?
"SEO" stands for search engine optimisation, which includes taking a series of actions to optimise a website so search engines index it and people can find it in future searches.
"Content" is information posted on the Internet for consumption by searchers. An SEO content writing strategy ensures content is both visible and useful to audiences.
How does content affect SEO?
Design your content to appeal to users and answer their queries. The better your content, the more likely you'll be seen as authoritative by search engines and potential customers alike. SEO techniques include captivating landing page content writing, link building, and attracting backlinks from trusted sites which generate more, better quality traffic to your own website.
What are the types of content marketing?
As well as being writing for individual webpages, content marketing can include writing blogs, developing infographics, engaging on social media, and creating text for videos and podcasts. Try to create and include a variety of different contents to rank on Google and to appeal to all types of customers from your target audiences.
What makes good SEO content?
To create good SEO content, you should have an effective keyword strategy that incorporates competitive keywords for your industry as well as so-called long-tail keywords, which are more specific to your niche.
You should also have a site that is well-structured, and easy, and logical for users to navigate through to find the information they need.
How do you write content that ranks?
For effective SEO content management, you should:
Ensure the search engines have a sitemap so pages are crawled comprehensively and efficiently.
Write meaningful, compelling content that's supported by relevant keywords.
Ensure meta descriptions and title tags are optimised and informative.
Use headers and links within your page content.
Make sure pages are mobile-responsive.
Tips on creating balanced SEO content writing
Research and incorporate the right keywords into your optimised content. Use long-tail keywords as well as shorter ones.
Ask customers what problems they're trying to solve with your products/ services and use that to frame your content.
Structure your content to be read quickly and easily: use bullets, short sentences, and eye-catching subheadings.
Use data to support your content: facts and figures engage and persuade readers.
Illustrate with relevant, optimised images.
Different types of content to improve your SEO rankings
It's all very well saying 'write engaging content', but how do you do that? Here are seven types of content you can use to improve your SEO rankings:
Blogs: short, relevant and can address the questions your audiences want answered.
Long-form content: cover a subject in depth and show off your knowledge.
Video: tutorials, product launches, story-telling, or showcasing existing products.
Podcasts: available to users on the go.
Social media: short, great for engaging with audiences.
Infographics: easy to consume, eye-catching.
Case studies or research findings: great for media attention.
How to write SEO content
Develop an overarching SEO content marketing strategy to underpin your website.
Pick a useful topic that will engage your target audience and brainstorm relevant and associated keywords.
Write an eye-catching but relevant title for each landing page content.
Use short sentences and paragraphs, bullets, and subheaders to guide the reader through.
Include hyperlinks to other useful sources of information.
Share on digital platforms like social media and encourage resharing.
Learn the basics of SEO writing
Identify keywords and other words and phrases that are similar. These are the foundation of your article, but use them sparingly or Google may penalise you for keyword stuffing.
Do put your main keywords in titles and headings, subtitles, meta descriptions, image descriptions, and so on, as well as in the content.
There are no firm guidelines on how often keywords should appear, but around 3% to 7% appears to be ideal. Having said that, your main aim should be to write engaging content that users are keen to share with others.
Steps for creating an SEO campaign
Know what your ideal customer looks like and decide what you want from your campaign: generate warm leads, get sign-ups to your newsletter, make more sales, for instance?
Use tools like Ubersuggest, Answer the Public, and Keywordtool.io to get suggestions for relevant keywords. Perform an SEO content audit to make sure search engines can crawl your website and it offers a good user experience (fast page loading etc.).
Create great content aimed at your users, complete with keywords, links, images, and so on.
Outreach to others in your field to attract backlinks.
Test and monitor.
If you want expert assistance on all of these and more, get in touch with Position1SEO today!