What is local SEO?
You can probably name several businesses in your local area that are offering the same service or selling the same product as you. Local SEO is what you need to stand out from the competition.
Whenever a prospective customer searches Google for the service or product you offer, you want yours to be the first website they see. That means appearing higher up the search results than your competitors. To do this, you'll need to invest a significant amount of time and effort in what's called local SEO.
As a business owner, you might be unaware of all the ways that can get you a first-page ranking, but you can always leverage our experience at Position1SEO. We've worked with numerous local businesses to help them stay a step ahead of their competition with our extensive expertise in local SEO.
If you'd like to know more, just get in touch, and we'll send across some of our past case studies!
Local SEO becomes a necessity when you're looking to expand your business. You may be finding that your business is doing brilliantly in the 'real world', but when it comes to monitoring how your online business is doing, that success simply isn't being replicated. Naturally, this is a concern, and rightly so – because that means you're missing out on a valuable source of revenue.
The internet is such a great place to find new business. Practically everyone uses the internet nowadays to search for local goods and services. The days of people flicking through the Yellow Pages as their first port of call when looking for a service or product in their neighbourhood have long gone. Failing to capitalise on the opportunities the internet can bring your business means you're wasting the chance to source potential new customers.
What's more, we all know just how important it is to appear on the first few pages of Google. No one looks at page 27 when they're faced with a plethora of Google results, so it really is in your best interests to make sure your website features as early on in the search engine results as possible if you want to really benefit.
When you're thinking about optimising your website so it becomes more visible to your target audiences, hiring an expert SEO company is indisputably the right way to go. A small business SEO company will have absolutely tons of experience in this field; and it needn't cost you the earth either. Experienced specialists will be able to analyse your website and establish the best ways to optimise it with local business SEO methods such as link building; the best keyphrases to use; and how you are stacking up against your competitors. They will know exactly what they are looking for and they will be able to use this knowledge to your benefit.
They will also be bang up-to-date with the latest information and research in the field. You would be starting from scratch if you undertook the task yourself, but they already have a wealth of knowledge – and the experience of what works and what doesn't work – that you can take advantage of, and all without having to do anything yourself. All you will need to do is get on with the vital jobs of running your business and delivering for your customers and let professional local SEO consultants take care of the rest.
Choosing Position1SEO as your SEO company
When you're looking for a local SEO company to help your business online to match the potential of your business offline, Position1SEO is the obvious choice. We are a UK-based firm with well over ten years of experience in the industry. We understand all the different elements that need to be included to help you get to the top of page one of the search engine results. We are also experts at drawing up an effective strategy that's tailored uniquely towards the results you want to achieve.
There is no doubt that SEO for local businesses is a complicated field, but that doesn't mean we'll keep you in the dark about our methods. On the contrary, as soon as we have completed our analysis of your website – which is usually within a week of the launch date – we'll provide you with three detailed reports. These will explain our findings on the status of your existing site and outlining our proposed strategy to improve your standing.
We will then follow this up with three reports each month which will allow you to easily monitor our progress. You will be able to see the improvements our work is making in black and white; and that will give you confidence that you're getting a good return on your investment. We will also use these reports to fine-tune our methods and techniques for even better results, as and when required.
One of the main factors that set Position1SEO apart from other SEO companies is our commitment to Conversion Rate Optimisation. While SEO will get you to the front page of Google and therefore give you more visitors to your site, what happens once they are there? It's all very well getting the clicks you want, but these don't automatically translate into sales without further work.
Did you know that the average conversion rate from visitors to customers is just 0.01%? That's just 1 in 10,000 visitors. Think how many visitors you would need, therefore, in order to guarantee you'd be making a profit! The best websites, on the other hand, have a 20% conversion rate – that's 2,000 customers out of 10,000 visitors. So it's well worth considering this when you're making your decision as to which agency to choose for local SEO packages. At Position1SEO, we'll analyse various aspects of your website and suggest amendments and changes that will ensure you don't disappoint your visitors once they arrive.
If you haven't already made up your mind, then please visit our homepage at https://position1seo.co.uk/ for more insight into what we do and how we do it. You'll also be able to see our range of packages and make a decision on which one is perfect for your business needs.
Please do contact us with any questions in the safe knowledge that this won't put you under any obligation to proceed with us at that stage. But we will be able to explain more about what we do and answer your queries openly and transparently.
As one of the best local SEO companies around, we only use white hat methods and combine our years of experience with the latest information and research to ensure a tailor-made solution for your business. If you're looking for local SEO to bring your online business up to speed with the rest of your organisation, Position1SEO is the perfect company for you. Why not take a look at what we have to offer? We guarantee you'll be impressed!

Exceptional customer service: Position1SEO
At Position1SEO, we pride ourselves on delivering exceptional customer service that exceeds the expectations of our clients. Our team of expert local SEO professionals goes above and beyond to ensure that you receive personalised attention and the best possible experience throughout your journey with us.
We understand that every business is unique, and therefore, we offer a tailored approach to our services. Our team tracks your progress and adjusts your work accordingly to ensure that you achieve the best possible outcomes. We provide regular updates and transparent communication to ensure that you are always in the loop and satisfied with our services.
Our commitment to delivering excellent customer service has helped us build a reputation for being a trusted and reliable partner for many businesses. We take pride in our work and strive to achieve a 100% satisfaction guarantee with all our clients. Contact us today and see how we can help you achieve your local SEO goals and search performance.
Boost your local business today with our expert local SEO services!
Do you own a local business? Are you struggling to attract more customers? Then it's time to invest in our top-notch local SEO services! Our team of experienced SEO professionals knows exactly how to target your ideal audience and drive more traffic to your mobile-friendly site. With our proven strategies and techniques, we can help you climb the ranks of local search engine results and reach more potential customers in your vicinity.
Our local SEO services include everything from target keyword research and on-page optimisation to local citations and link building. We'll work closely with you to understand your business goals and tailor our services to meet your specific needs. Whether you're looking to promote a new product, expand your customer base, or increase your online visibility, we've got you covered.
So if you're ready to take your local business to the next level, contact us today at 0141 404 7515 and let's chat about how we can help you reach your goals. You can also learn more about SEO through our helpful blogs.
Don't miss out on the opportunity to boost your online presence and attract more customers with our expert local SEO services. Trust us, you won't regret it!

Get these unbeatable features and benefits from Position1SEO for organic search success
As the online market evolves, search engine optimisation techniques have become increasingly challenging and multifaceted. Position1SEO, a leading local SEO agency, provides a comprehensive range of services to help your website achieve high-quality organic traffic through relevant searches. Our unique combination of SEO tools and skills ensures that we provide successful outcomes consistently. The following are just a few of the features and benefits that make us stand out from the competition:
Advanced technical SEO techniques to enhance your site's performance

Tailored competitor analysis to capitalise on your industry's best practices

Keyword research and relevant content creation to drive high-quality traffic

Robust inbound link-building strategies to boost domain authority

Ongoing SEO reporting and analytics to track and optimise your progress
With Position1SEO, you can be assured of the highest level of SEO expertise and dedication, giving your website the power to reach the right audience, at the right time, and generate significant organic growth. Get in touch with us to begin your journey towards a more impactful online presence.
Boost your local search visibility with us!
In today's digital age, local business owners need to build an online presence that is easily searchable and visible through search marketing efforts. Without strong local SEO strategies, your business may miss out on valuable customers, revenue, and growth opportunities. This is where our expert SEO efforts can assist you.
We specialise in optimising your website and online presence to rank higher in local search engine results pages. With our proven tactics, we ensure that your business appears in top local searches, maps, and directories, leading to increased brand awareness, online traffic, and sales.
Whether you run a small coffee shop, a boutique store, or a medium-sized enterprise, our tailored local SEO services can help you unlock your true business potential. We work with different industries and markets, using cutting-edge techniques and technologies to deliver measurable and long-lasting results.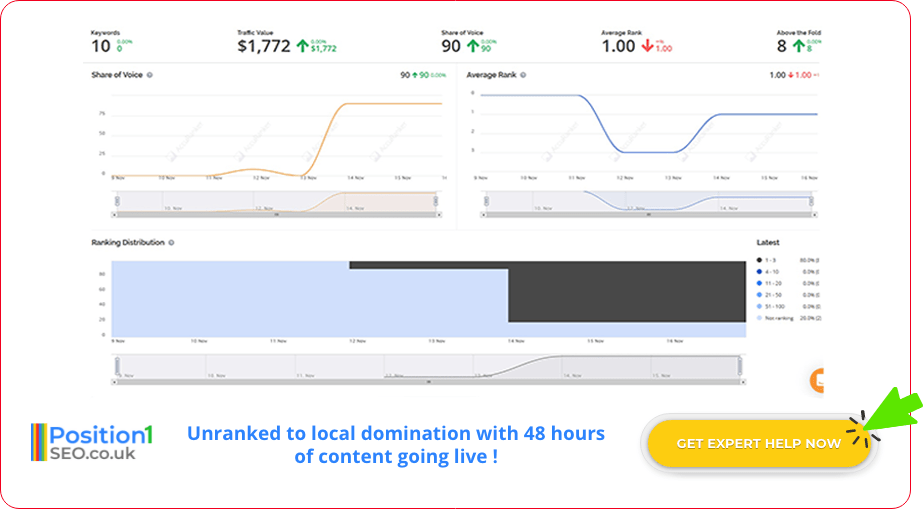 Improving your local SEO for your business: Frequently asked questions
How long does local SEO take to work?
It could take as little as four to eight weeks, provided you already have an account set up with Google and your website has been up for a while. You should also have set the appropriate categories for your website for faster results. Hiring an experienced local SEO company will typically get you faster results than doing it yourself.
Why is local SEO important?
Many people now search for goods and services while they are on-the-go through mobile devices like smartphones. A user's search is tailored towards results from businesses in the area they are located. If you optimise your site and populate and optimise your GMB profile with local SEO, you are making it much easier for potential customers to find you.
Why is schema important for local SEO?
Schema mark-ups flag up important information about a product, business, or service to the search engines so they can more readily pick up on it to display it to users. If local search marketing schema mark-ups are added to your website's HTML, it's much easier for Google to match it to local users searching for businesses like yours.
How do you know if you need local SEO?
If even a small part of your business relies on local customers, then you need local SEO. Ask yourself what customers might need to know (opening hours, contact phone number etc.); and what keywords they might type into a search engine to find you – and make sure you use all that to frame your local SEO.
What is keyword research in local SEO?
Local, relevant SEO keyword research is much easier than keyword research for a wider application. All you need to do is think of the keywords people may search for when looking for your business locally, and you're done. You don't have to keep repeating the process unless you change the nature of your business and need to add new keywords.
What is the difference between SEO and local SEO?
The focus of traditional SEO is to increase your website's visibility in search engine results on a national/ international basis. With local SEO, though, you are targeting local users who may be searching for information on services in their immediate area. SEO for local businesses is often more pertinent to companies with brick-and-mortar premises.
What affects local SEO ranking?
There are plenty of factors that can impact search engine optimisation for local business ranking. The leading one is location, so be clear on the geographical areas you serve in your keyword research, mapping, and selection.
Relevance to searchers' queries and prominence in the area are also important. Also don't underestimate the value of positive reviews from past customers.
Can images help your website's SEO?
Visually, images and videos are pleasing to users, provided they don't slow down loading times. If you want them to positively affect your SEO, make sure they're marked with appropriate ALT tags to tell Google what it's looking at. ALT tags also improve user experience and uplift your SEO. A great local SEO agency like Position1SEO can handle these technicalities.
Why isn't local SEO instant?
When you use a search engine, the results don't come from the 'live' internet. Instead, Google searches a version it's already indexed. So your site must be indexed by Google before any changes you make are visible to end users. It can take four to eight weeks or more for local SEO to have an impact. There's no quick fix!
What is on-site SEO for local businesses?
Business-related search engine optimisation for local companies on their websites requires different strategies to traditional on-page SEO. For instance, you need unique content for every location you cover, so different landing pages for 'tyres in Walsall' and 'tyres in Solihull', for instance. You should also information like opening hours and keywords that are geared towards what local audiences want.
How can businesses improve their local SEO rankings?
There are several strategies businesses can use to improve their local SEO rankings, including: optimising their Google My Business listing with accurate and consistent information, building local citations on reputable directories and positive review sites, creating location-specific content on their website, and engaging with their local audience on social media platforms. It's also important to ensure that your website is mobile-friendly, easy to navigate, and has a fast loading speed.
What are some common mistakes businesses make when it comes to local SEO?
One common mistake businesses make when it comes to local SEO is neglecting their Google My Business listing and failing to provide accurate or up-to-date information about their business. Another mistake is using non-specific or generic keywords that don't accurately reflect the products or services they offer. It's also important to avoid spammy tactics like keyword stuffing and buying backlinks, which can result in penalties from search engines like Google.
Local SEO tips for hotel business rankings
Remember, most traditional on-page SEO practices are even more important for local SEO. Ensuring your website is mobile-responsive is particularly important to attract users looking for facilities in an area while they're visiting. Also have a clear, logical structure and fast page-loading times to improve user experience and visitor retention.
Other good tips include hosting a blog that updates guests and potential guests on what's happening in the local area; and include details of local landmarks, resources and so on that might appeal to people thinking of staying at your hotel.
Hire local SEO expert Position1SEO for more ideas.
Latest local SEO trends
Google's still king of the search engines, so make sure you're registered and all up-to-date on Google My Business and Google Maps.

Remember, the more info you include on your business, the more likely it is that Google will pick you to be featured in its Knowledge Panels, a big boost to local visibility.

Tailor optimisation of your content towards featured snippets and voice search generally – increasing numbers of people ask their voice search assistants rather than typing in keywords.

Keep local search words in mind at all times, especially location-related ones.
Local SEO to promote taxi businesses
Here are tips on local SEO to improve your taxi business:
Create a Google My Business (GMB) profile and keep it up-to-date. Make sure your name, address and phone number (known as NAP) is logged consistently on this and other online business directories.

Pay attention to the Reviews and Q&A sections on GMB – here, you can demonstrate your good customer service by responding to reviews and answering users' queries.

Make sure you have a Contact page on your website and that your NAP is posted consistently on every page.

Offer clickable phone numbers on your mobile-responsive website for improved usability.
Benefits of SEO
The internet is increasingly crowded with businesses; and it's the number one source of info for customers looking to buy. SEO improves your business's visibility so you're one of the first names potential clients see when they search for products or services, locally, nationally or internationally.
Local SEO marketing can make your site stand out, with quality content correctly marked up for the search engines to identify. Consistent messaging, positive reviews, trustworthy link-building and an emphasis on terrific user experience all combine to flag up to Google, and therefore your potential customers, that yours is a business worth buying from.
Local search engine optimisation for small businesses
Increasingly, consumers want to shop locally, so local SEO is commercially vital. Make yourself known to local customers and build better relationships for long-term success.
Smartphones incorporate users' locations when they search online. If you've embedded local SEO principles in your web strategy, you can soar to the top of local search queries for your products and/ or services, putting you way ahead of your immediate competitors.
You can even beat your biggest national competitors with local SEO, first by being top of the SERPs and then by offering a better, more convenient service locally than they could ever do.
If you want an effective and affordable way to make this happen for your business, get in touch with Position1SEO today!