How can an SEO audit help your business?
Have you tried your hand at SEO but seen limited success? If you've ever wondered where you stand in terms of SEO for your website at the moment, what you need is an SEO audit. And for that, you're in the right place because, at Position1SEO, we are specialists in helping businesses rank at #1 on search engines with our proprietary processes.
When we work with you, our starting point is to conduct an SEO audit. This examines your web presence's current situation and identifies subsequent improvements that can be made to boost your SEO. The audit also reveals potential wins and opportunities that your competition might not be aware of, allowing you to get a step ahead of the crowd.
If you're intrigued and want to know more or would like an SEO audit carried out for your website, get in touch with us today. We'll give you more details and send across some case studies of our past successes working with businesses just like yours!
An SEO audit is a great opportunity for any business that carries out any form of SEO activity. It will check what effect the steps you're undertaking – or paying an agency to undertake on your behalf – are having. It can also flag up areas where small tweaks to your current strategy could make a big difference.
The purpose behind SEO generally is to raise the visibility of your website to the search engines so they will rank it higher in their search results pages. This inevitably leads to an increase in traffic to your website. And that gives you the opportunity to generate more enquiries from prospective customers and more sales to grow your business. But SEO should never be a one-off activity carried out in isolation. It's an ongoing process of refining and improving your digital strategy if you want to see the best returns.
Audits should therefore be carried out on a regular basis. How often depends on the size and scale of your website and your business, but as a general rule of thumb, experts recommend quarterly audits to make sure your investment in SEO is paying off. This can seem like a massive undertaking, but it's important for the following reasons.
First, search engines are constantly changing their own algorithms – the formulas they use to assess and rank websites – in a never-ending quest to improve their search results for their end-users. We've seen in the past big updates like Google's Panda and Penguin causing huge drops in rankings for various businesses, resulting in near-catastrophic drops in traffic to their websites. A frequent online SEO audit will keep you abreast of changing algorithms and give you the opportunity to make adjustments before you lose out.
Next, one huge factor in achieving a high ranking on Google and other search engines like Yahoo and Bing is customer experience. Google is pursuing a mobile-first model, meaning it assesses your website on how it performs on mobile devices rather than desktops. Equally, it tests how quickly each of your webpages loads, knowing that two-fifths of visitors will quickly leave a page if it fails to materialise in less than three seconds.
Another test is whether there are any basic errors like broken links, 'page cannot be found' messages or faulty redirects: coming across any of these when browsing a website is distinctly off-putting and can be losing you vital traffic. A routine, regular SEO page audit will test all these factors and let you know if and where your web pages are coming up short. That way, faults can be fixed and speeds improved before they have an adverse effect on your end users.
Thirdly, an audit will give you insight into how your competitors are doing compared to you. This can help keep you ahead of the game – or give you an opportunity to tweak your strategy if they're patently performing better than you. You can see what keywords are working well for them and piggyback on that by using the same ones, or identify new keywords they aren't using so well, so you could usefully target these in the future.
And as well as checking out their keywords, you can also track your own to measure how successfully your SEO strategy is working and whether any action needs to be taken, such as adding fresh content, tightening up title tags and meta descriptions, and so on. This brings us to the fourth major reason for carrying out regular SEO audits: gathering insights into your web traffic. You can compare this time's data to the last time you audited to ensure levels of traffic, clicks, etc., are going upward rather than dropping. This tells you whether, overall, your website is doing well or if your technical, on-page, or off-page SEO needs action.

Get insight into your SEO performance from experts
If you're not seeing strong, positive results from your website and you've never audited it before, there's no time like the present. Contact the team at Position1SEO. We're a highly experienced SEO agency that has been delivering great results for our clients for over a decade now. When you work with us on your company's SEO strategy, the very first thing we do is carry out a full SEO audit of your website.
This gives us a starting point from which to develop a plan for SEO improvement that's entirely tailored to your website's needs. It also gives you and us a baseline for future monitoring so you can see the improvements in your web presence and the increases in volumes of traffic that result from the changes we make. If you work with us, we give you monthly reports so you can assess for yourself what difference we're making.
While good SEO takes time to deliver results, Position1SEO will hone in on quick wins that can give your website a boost. Then, we set to work on implementing the longer-term changes that will lift your pages higher through the rankings. You can choose which of our available keyphrase packages is best suited for your needs and your budget, and we'll set to work drafting sparkling new content and optimising each page in a logical, structured fashion and in line with what we've found works best.
We can handle your social media and set about sourcing great quality backlinks that the search engines will recognise as giving your site authority and trustworthiness. And we place particular attention on Conversion Rate Optimisation. In our experience, too many SEO agencies focus too hard on just getting a webpage to the top spot on Google, but then what? It's a great place to be – and we'll get you there, too – but if all those visitors aren't translating into increased sales and bigger profits, then your SEO agency isn't doing its job right.
So we'll implement changes that will help improve your conversion rate too. We believe strongly that the best way to get you to the top spot, increase sales and keep your business on an upward trajectory is through good quality, long-lasting SEO. We therefore only use what is widely called white hat techniques to get you there.
It all starts with an in-depth on-page, off-page, and technical SEO audit. If you want to know whether what you're doing now is working and how it could be made better, get in touch with our team at Position1SEO today. We'd be delighted to join you in your journey to the top. Call us now on 0141 404 7515 for an initial discussion, or browse through our website at https://position1seo.co.uk/  for more details on what we do and how we do it.
Experience exceptional customer service with Position1SEO's expert SEO audit
At Position1SEO, we take pride in providing exceptional customer service that goes above and beyond your expectations. Our expert team not only conducts a thorough SEO audit but also offers valuable advice and recommendations tailored to your unique business needs. We are committed to your success, and our personalised approach ensures that every aspect of our service is tailored to your goals.
With us, you're not just another client. We track your progress closely and adjust our work accordingly to ensure maximum results. Our team is dedicated to delivering exceptional service, and we guarantee 100% satisfaction. We have earned the trust of many businesses, and our 5-star rating speaks for itself.
When you choose Position1SEO, you can rely on our reliable, friendly, and professional customer support. We believe in building strong relationships with our clients, and we are always here to assist you every step of the way. Our free consultations allow us to understand your business better and provide you with tailored solutions that yield quick results.

Transform your website with a powerful SEO audit from Position1SEO
Don't let your website be left in the shadows. Take charge of your online presence with a powerful SEO audit from Position1SEO's SEO specialists. Our team of experts is ready to revitalise your website, drive more traffic, and boost your rankings on search engines.
Contact us today for a free consultation, and let us show you the transformative impact our SEO audit can have on your business. You may also check out our excellent blog page, where we regularly publish informative articles about the SEO industry.
Don't settle for mediocrity when you can achieve greatness with Position1SEO's helping hand in fixing your technical SEO issues.
Give your website the competitive edge it deserves and experience the power of our SEO audit service and witness the growth and success of your online presence! Embark on a journey towards digital excellence with Position1SEO.
Unlock the power of Position1SEO's feature-rich SEO audit
In today's digital landscape, an effective SEO strategy is crucial for businesses to thrive. An SEO audit acts as a powerful tool to analyse, optimise, and enhance your website's performance. At Position1SEO, we understand the importance of a comprehensive SEO audit in driving organic growth and establishing a strong online presence. Through our feature-rich SEO audit, we provide you with actionable insights and strategies to elevate your website to new heights.
Get more customers through organic searches: Our SEO audit ensures that your website is optimised to appear prominently in search engine results, attracting valuable organic traffic and increasing your chances of acquiring new customers.

Reach a wider audience through intent-driven keywords: By conducting thorough keyword research, we identify intent-driven keywords that align with your target audience's search queries, enabling you to reach a broader and more relevant user base.

Ensure high-quality website traffic: Our SEO audit focuses on attracting high-quality traffic to your website, ensuring that the visitors you receive are genuinely interested in your products or services, leading to improved conversion rates.

Support other marketing initiatives, like PPC strategies: An SEO audit from Position1SEO enhances the effectiveness of your overall marketing efforts. Optimising your website's visibility and relevance complements other strategies like PPC campaigns, maximising your return on investment.

Create brand awareness: Our SEO audit not only boosts your website's rankings but also helps in building brand awareness. By increasing your online visibility, you can establish your brand as an industry leader, fostering trust and credibility among your target audience.
Position1SEO's feature-rich SEO audit empowers your business with the technical SEO audit tools and strategies needed to succeed in the competitive digital landscape. With our expertise and commitment to delivering exceptional results, we ensure that your website receives the attention it deserves. Take advantage of our comprehensive SEO audit today and witness the transformative impact it has on your online presence.
Supercharge your website with Position1SEO's comprehensive SEO audit
Don't let your website fade into obscurity. Take the proactive step of supercharging your online presence with Position1SEO's comprehensive SEO audit and SEO campaign.
Our expert team is ready to analyse, optimise, and elevate your website's performance to new heights. Experience the power of our data-driven approach and unlock the full potential of your website.
Contact us now and let us propel your business towards digital success with our SEO audit services. Take the first step today and watch your website soar above the competition.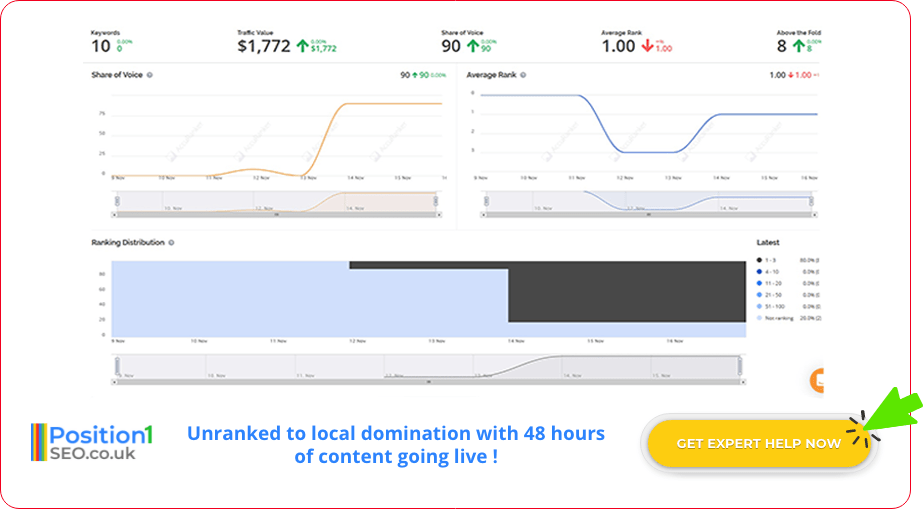 Frequently asked questions about our SEO audit services
What is an SEO site audit?
An SEO site audit checks the factors required to ensure a high ranking in search engine results and identifies areas for improvement. Audits should be done regularly and tested for issues with on-page and technical SEO, with the website's structure, and with usability by visitors. An audit can also identify gaps in content and opportunities to fill them.
Why is an SEO audit important?
Your website is a massive investment for your business, and you want it to pay off. SEO audits help identify any and all issues discouraging search engines and traffic from using your site so they can be fixed in a timely fashion.
An audit should cover everything from page loading speed to broken links and meta data analysis.
How long does an SEO audit take?
Don't rush the process – it's too important. As a guide, it should take around a week to audit a site with approximately 15 pages. A huge website with 100+ pages can take around six weeks for full checks to be carried out.
If hiring an SEO expert, they should give you an idea of how long the project will take.
What is a technical SEO audit?
A technical SEO audit, as the name suggests, checks all the technical aspects of a website. This includes a lot of behind-the-scenes aspects, such as crawlability by search engines, duplication of content, analysis of mobile-friendliness, redirects, and XML sitemap issues.
The aim is to identify areas for improvement. SEO audit packages are available if you're struggling with the technical aspects.
What is an off-page SEO audit?
Off-page SEO determines the extent to which search engines view your site as authoritative. Off-page auditing as part of your website ranking improvement review will check backlinks, local SEO, and social media engagement to ensure no single element is detracting from your authority.
What is included in an SEO audit?
An SEO audit covers on-page, off-page, and technical SEO. Each area is examined against a checklist of best practices to ensure there's nothing that will adversely affect a website's ranking in the search engine results. The SEO audit report usually results in a task list of areas for improvement.
How much does a website audit cost?
There's no fixed price for an SEO audit service. The price you're quoted will depend on the agency you use, the size, and the complexity of your website. As with most things, it's worth shopping around, but never opt for the cheapest quote. The work done will pay dividends in the longer term if it improves engagement with your website.
Why is SEO done?
Users rarely look beyond page one of search engine results, so if you need more visitors to your website, you want it to rank highly. SEO addresses best practices drawn up by search engines to make sites user-friendly, authoritative, and trustworthy. Get your SEO right, and your website will be more visible and more appealing to your ideal customers.
What are SEO tools?
SEO tools help you analyse your existing website and flag up areas that can be improved to make search engines like Google, Yahoo, and Bing view it more favourably. Tools for good optimisation assessment are available for everything from identifying the right keywords to use to providing information on the value of certain backlinks over others and more besides.
How do you rank higher on Google?
There are over 200 metrics Google uses to evaluate your web presence. Address as many of these as you can to rank higher in search engine results. A search engine optimisation evaluation tells you where you're currently not performing well and gives you a list of areas for improvement, from reducing bounce rate to boosting your click-through rate.
What SEO audit tools and techniques do you use for an SEO audit?
At Position1SEO, we employ a combination of industry-leading tools and our expertise to conduct an in-depth technical SEO audit. These SEO tools include advanced search engine crawlers, keyword research tools, backlink analysis software, and analytics platforms. Additionally, our team utilises manual analysis techniques to assess your website's content, structure, and user experience.
Will an SEO audit guarantee top search engine rankings?
An SEO audit is a crucial step towards improving your website's search engine rankings and guaranteeing better rankings. The purpose of an SEO audit is to identify and optimise areas for improvement, enhance your website's visibility, and align it with search engine guidelines.
How often should I conduct an SEO audit?
It is recommended to conduct an SEO audit periodically to ensure your website remains optimised and aligned with the ever-evolving search engine algorithms. The frequency may vary depending on factors such as the size of your website, industry dynamics, and your SEO goals. As a general guideline, conducting an SEO audit at least once a year or when there are significant changes to your website or business is a good practice.
SEO audit process to boost your Google rankings
Five quick steps to audit your web presence:
Check the biggest issues: are your pages visible to Google so they can be indexed?

Carry out an on-page SEO breakdown for each page: is there a strong title tag, custom-written meta description, H1 optimised, H2 and H3 formatted correctly? Identify duplicate and weak content; check page loading speed etc.

Analyse your existing search traffic. Are rankings heading in the right direction?

Check your backlinks – do you have enough and are they rising?

Audit existing content and identify significant gaps.
When to perform an SEO audit
You should carry out an SEO audit on your website on a quarterly basis. If you're regularly adding content to your site, there's always a chance something has been overlooked. Likewise, search engine algorithms change constantly, so an audit allows you to pick up on and address any changes needed.
If you experience a sudden drop in traffic, that should also prompt you to audit your site to uncover why. And if you're about to embark on a new SEO or marketing strategy, it's always useful to do a baseline audit to give it the best chances of success.
A blogger's guide to massive traffic potential
SEO is a constantly evolving field, so you can't just optimise your website once and call it done. Frequent audits will identify key issues preventing your website from being indexed, rising through search engine rankings, and gaining new traffic.
Bloggers need to audit their websites just as much as businesses. You should analyse on-page, off-page SEO, and technical SEO thoroughly to make sure you're not missing out. Simple websites can easily be audited by the site owner, but the more complex the website, the more there's a need to buy SEO audit services from an expert SEO agency.
Aspects of an SEO audit
First, identify your website's purpose: to sell, to inform, or to raise awareness, for instance. Locate the key pages that are especially vital to customers. Then work through checklists for each of the following:
Server and infrastructure issues can be identified through a search engine's webmaster tools (like Google Search Console).

On-page SEO ensures your content is high-quality and optimised fully for search engines and users.

Off-page SEO evaluates your website's popularity, trustworthiness, and authority, and how you stand up to your competition.
If you're short on time or expertise, hire a professional for your website ranking analysis.
Steps in conducting an SEO audit
Full-blown SEO audits can be a daunting task. You can simplify the process, though, to tailor it to your needs:
Draw up your scope: will you audit your content, your off-page activity, or your technical SEO?

Set a timescale to examine: a month, quarter, or year?

Pick two to three competitors to compare yourself against.

Select metrics, e.g., traffic, keywords, backlinks, etc.

Use SEO tools: there's a tool to measure everything from site speed to local SEO.

Jot down insights, like increases or falls in traffic.

In each case, ask yourself why?

Create an action plan and prioritise each action.
Never done an SEO audit before and don't know where to start? Or are you short on time and need a hand from experts with assessing what's working on your website? Give us a call at Position1SEO. We have a wealth of experience to help you achieve your goals.