Google SEO Demands Mobile First Principles – All You Need To Know
Google SEO best practices used to be tested against desktop pages when the search engine was calculating where websites would figure in its rankings. But now, in recognition of the fact that the majority of internet searchers now use a mobile device to find what they're looking for on the internet, Google has now moved entirely to mobile-first indexing. How and when did this come to be the norm?
Key milestones in the process included evaluating all new sites with the mobile-first indexing strategy from early 2019. Then, in early 2020, Google announced its intention to move all sites over to mobile first indexing within six to twelve months. This timescale was delayed somewhat due to the global pandemic, but Google then suggested it expected to be ranking all sites based on their mobile-friendliness from March 2021.
What this means is that how your website appears on a mobile phone or other smart device is the primary way the search engine will view it for Google search SEO purposes. in the past, designers began by creating a full version of a website for visitors using a desktop computer, and then may have had an alternate version for mobile users. That typically had less content, a lighter-touch structure and mark-up and fewer backlinks, so mobile users could access key data about a company or product quickly, without having to hang around for extraneous information to load up.
But technology has moved on and smartphones have become even smarter and faster. They're more able to cope now with greater volumes of content including text, images and videos. And as we've become ever more dependent on our smartphones to find information, so it's more important that businesses of all sizes present themselves in the best possible light to improve traffic among users searching 'on the go'.
Google confirmed in mid-2019 that it had no intention of allowing particular sites to opt out of mobile-first. So if you're wondering whether your site is being ranked according to Google search engine SEO mobile-first protocols, the answer is yes, absolutely – it is. The important question is more a case of whether your site is fully optimised for that.
How Do I Test My Site's Mobile-Friendliness?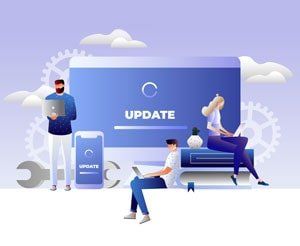 There are a whole host of reasons why your business website might not be performing as well in the search engine rankings as you might like or expect. But arguably, one of the first things you should do is check whether it's meeting the Google algorithm for SEO in terms of its mobile-first indexing protocol. After all, if a majority of visitors are searching for your goods or services on their mobiles, it's very much in your interests to make sure they can view and interact fully with the content you've spent ages putting together.
The best way to check whether there are any issues is to look on Google Search Console for SEO issues. The page you need is the Mobile Usability report. This will first give you an overview of all your pages (or at least up to the first 1,000, if you have a really big website) and each of their statuses. A page can either be shown as being valid – in other words, it meets the Google terms and conditions for SEO in terms of mobile user-friendliness; or that there's an error. And what this means is that page doesn't meet the threshold for being mobile-friendly.
Note that doesn't mean the valid pages are entirely without errors – just that they meet enough of the criteria to qualify as being mobile friendly. But if you want to see a Google website ranking improvement, it's obviously the error pages you should concentrate on first.
What Kinds of Errors Might I See?
The Google SEO Search Console summary report shows the issues and next to it, a count of the numbers of pages affected. The search engine suggests you prioritise fixing faults and errors in this order, concentrating on those errors that affect the highest number of pages, then working down the list. So what might you be required to fix?
One common fault is that the page content extends beyond the size of a mobile device's screen. This means the user has to scroll across the page to read whole lines of text. That can be extremely off-putting. Related to that, another typical error is failing to set the viewport, or setting it to a fixed limit. Because desktop pcs, mobiles and tablets all vary in screen size, it's essential to set the viewport to automatically adjust the webpage's content to adapt to whatever screen the text, images and other content is being viewed on.
You may also find that your page employs an older type of plugin – like Flash, for instance – that isn't compatible with modern mobile browsers. Here, you need your website designer to update your website to use more up-to-date web technologies like HTML5.
Perhaps the font you've used is too small, or you've positioned interactive elements too close to each other, like a sign-up button for a newsletter right next to a 'view more' button. That can be frustrating on a mobile when a user can't click on the thing they want without also hitting another button they don't want. If you want Google to enhance your website ranking, these are the kinds of things that need fixing.
What If I'm Building a New Website From Scratch?
Remember, Google SEO and SEM favours a format that's compatible with mobile above any other consideration, so ensure your web designer is creating a website that takes this into account. Here are just a few things to bear in mind:
Make sure from the outset that any theme or template you are using to base your website on is mobile responsive. The good news is that most templates and themes on popular platforms like WordPress are automatically designed to be mobile friendly nowadays, so stick with them and you won't go far wrong.
Optimise the content on your website for easy viewing by selecting an easy-to-read font – sticking to the standards is best. More elaborate fonts may look great but can take much longer to load up.
Pare down the volume of text and use plentiful space so it's easy to read on a small screen. Try keeping paragraphs to one or two sentences and adding a bit of white space between them.
Avoid pop-ups like the plague – they tend to annoy people on desktop PCs and can be even more irritating on a small screen. You can get around this by using banners or widgets instead.
Make sure image files are optimised for mobile – resize and compress them so they load quickly and use lazy load images (ones that only appear when the viewer scrolls to them) to keep your visitors engaged.
Use simple forms and clear call-to-action buttons to make it easy to guide your visitors to take the next step.
And never forget to test and measure the overall user experience against the search engine's core web vitals if you want Google to boost your website ranking. These are Largest Contentful Paint – the speed with which the largest element on your page loads up; First Input Delay – how long your site takes to react when your visitor first interacts with it; and Cumulative Layout Shift – whether the elements on your page all load up cleanly or shift about annoyingly.
Meeting Google SEO expectations is vital if you want your website to score well in its indexing and ranking and appear close to the top of the search engine's results when prospective customers are looking for products and services like yours. If you want to get ahead of the competition and are worried that your site isn't performing on mobile devices as well as it should, don't hesitate to find and hire a trusted SEO agency today. To learn how our professional SEO services can help you with your marketing by maximising the potential of your website, visit our Position1SEO homepage now.