This Is How You Can Write A Great Meta Description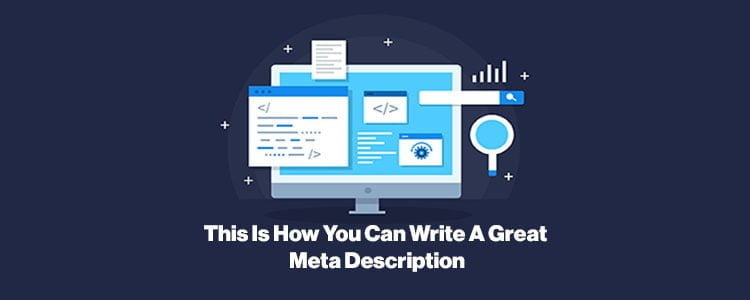 Most local SEO companies and site admins know the importance of a well-crafted meta description. This element is an HTML tag utilised to give an insight into a specific webpage. You can find it in the search engine results below the title and URL of a webpage. These descriptions should be kept between 140-160 characters so it is fully visible on Google.

Why Are Meta Descriptions Important?
Considering that a meta description appears with your URL and title on the results pages, they can either hurt or help the click-through rate for that specific web page. Based on research, the relevancy signals search engines look for with regards to the meta description is its keywords. Therefore, choosing your keywords with care can boost your ranking considerably.
It is not going to determine your ranking on its own, but if utilised organically without keyword stuffing, your meta descriptions can make a difference. When it comes to the search results, meta descriptions have the most real estate (two lines of text compared to one line for the URL and title), so use this to your advantage to market your website with an effective message to users.
Advice On Writing A Meta Description
Given that click-through rates are a possible ranking factor, a recommended way of creating SEO-friendly meta descriptions is to create them with no intention of acquiring more clicks.
Consider your search results as an advertisement in a magazine or newspaper. Traditional print marketing utilises taglines and headlines to urge the reader to go to an address to purchase a product in-store or call a specific phone number.
In search results, the meta description is the tagline, the URL is the location, and your page title is your headline. Considering that a meta description is a micro-pitch for a business page, you have to fill it with active language, which will push people to click on your result.
It would be best if you created a description that conveys the unique selling point (USP) of your website. Always use emotions when delivering your message so that you connect with the viewer.
Emotional marketing is effective in terms of connecting to other people's feelings.
Here is an example:

From this particular description in the SERP, you can see that the company can install and repair air conditioning, which is a needed service in Florida. Above all, they claim to "provide comfort and trusted advice when people need it most" (Imagine that your A/C broke and you're now sweating in a humid and hot place. Who do you call?)
Based on a study in 2014, the Institute of Neuroscience and Psychology at the University of Glasgow stated that human emotion could be categorised into four main factors:
Happy
Sad
Angry/disgusted
Afraid/surprised
To pull in potential customers, this company tapped into their emotions in the right way, which is exactly what you need to do.
Meta Descriptions Tips                                                                                             
Google allows space for one or two sentences for summaries below each search result, which consists of 160 characters. Hence, in those sentences, the descriptions must be compelling enough to urge users to visit your webpage. It's advisable to appeal to an emotional pain point, offer a particular advantage over the competition, or add a concise call to action.
If your description is too long, it simply won't fit into the space. Google will truncate it if it's too long. This means you're going to have half a description, which won't entice anyone.
People will ignore it if it's too vague. They will probably look for other results to click on instead.
You have to try to connect with users' emotions in two sentences or less.
It's vital to have a unique description for each page on your website as well. An SEO study found that nearly 30% of websites had the same meta descriptions for different pages, and 25% had pages with no meta descriptions at all.
Create SEO-Friendly Meta Description
To attract visitors and urge clicks to your website, follow these tips when creating your descriptions:
Limit your descriptions to about 1-2 sentences, with a total of 140-160 characters.
Include your chosen keyword.
Include a relevant call-to-action.
Keep an eye on duplicate meta descriptions.
Write in an engaging and informative manner that suits your audience.
Target an emotion.
It's advisable to check the latest recommendations from Google as well.
Utilising Multiple Meta Descriptions For One Page
John Mueller of Google recently responded to a question regarding the use of multiple meta descriptions.
According to him: "So, if you're including a second meta description tag on a page we will treat that the same as if you just extend the existing meta tag on the page.…there's no kind of bonus to using a second meta description tag on a page compared to just adjusting your existing one".
In a report from SEJ, Mueller stated that while Google could deal with extra meta descriptions and titles, publishers should stick to creating only one title tag and meta description per page.
You will see that most pages only have one meta description. Most instances of multiple ones are usually due to human error.
Meanwhile, in some cases, numerous meta description tags are created deliberately. The reason behind this is to give a search engine additional choice in regard to displaying meta information that matches a user's search query.
Purposefully Utilising Many Meta Descriptions
The reason for the usage of meta descriptions is to answer search engine questions in a manner that could aid in boosting click-through rate.
For instance, SEMrush may create a post that covers the various parts of keyword research. In this post, below are the search terms that are being targeted:
"What is keyword research"
"Keyword research tools"
Commonly, these both have different search intents. However, both are inherently linked to each other. To create two separate descriptions that relate to each phrase is why you would consider making multiple meta descriptions.
If a user typed "what is keyword research" search engines would show your results with the meta description created based on the "what is keyword research" search query. On the other hand, if a user searched for "keyword research tools", the second created meta description would probably be displayed.
Remember that there's no definite assurance which one of them the search engine will follow – because of this, creating many descriptions is seen as a waste of time by most.
Ways To Implement Two Or More Meta Descriptions
The meta description is in the HTML source of a page. Therefore, creating an additional meta description for a webpage will be done via the tool utilised to develop the website.
This means that to add extra meta descriptions, you must have access to the HTML of your website as well as the power to amend and edit it.
Meta description tags need to be placed in the HTML code between the head tags. Here's the title tag of the webpage:

This will create an additional meta description for a webpage. To add multiple ones, you have to repeat this procedure, adding a secondary meta description between the <head> tags. This would appear as follows:
To make the most of using multiple meta descriptions, they need to reflect the search intent of the top volume keywords the webpages rank for. This will allow search engines to choose the most relevant meta description for the search enquiries of the users.
Is It Advisable To Use Many Meta Descriptions?
It's typically advisable to create merely one meta description for each post unless you're purposefully trying to influence the search engine results as mentioned above.
Within a webpage that you're optimising, you have to include your target keywords and topics. While doing so, you have to guarantee that your content is 100% unique and meets the user intent of the leading queries you're trying to rank for.
Helpful Online Tools For Checking Meta Descriptions
Here are some useful tools to test your meta descriptions:
SEMrush Site Audit– This tool analyses the health of a website. It will give you a list of errors, which makes it simple to check where a website is struggling, such as duplicate and missing meta descriptions:

SEMrush On-Page SEO Checker-This SEMrush tool tests the keywords in your meta description and title tag. It then recommends the appropriate keywords if the ones you have chosen aren't relevant. In addition, it also provides an analysis of your keyword usage. On-Page SEO Checker gives a detailed list of tailored, actionable optimisation tips for each page of your website as well.

Portent– This tool is a SERP view generator, allowing you to input the meta description, URL, and title so you can check how they will appear on the search results. You will see the pixel width of the title, as well as being able to check how different keywords within your description will appear when bolded, and the character length of your description.
What You Need To Know About Noindex Websites
Google's John Mueller enlightens SEO experts and site admins about how the search engine giant keeps track of those websites that have a noindex directive set. According to him, it is not true that Google remembers noindex history, which can make it harder for certain websites to be re-indexed.
These are the tweets:

Perhaps the rumour regarding this issue started due to noindex websites getting no crawl from Google. However, if Google identifies that the noindex directive was removed, the search engine will begin indexing it quickly.
In short, Google won't penalise you in the long run for having had a noindex directive on your website previously.
All details on this blog came from https://www.semrush.com/blog/on-page-seo-basics-meta-descriptions/and https://www.seroundtable.com/noindex-google-index-29491.html. Read the full articles via these links.
Take your business to a whole new level online by making the most of top-notch SEO UK services. Not only can you obtain a strong online presence, but you can also score more traffic to your website. Visit Position1SEO to get started.