This Is Why Creating A Sitemap Manually Is Not a Good Idea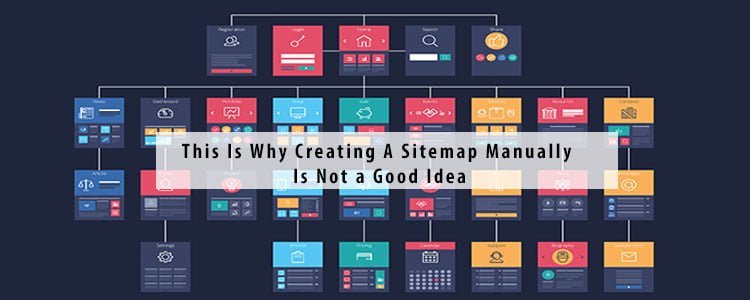 In Reddit's thread "r/SEO subreddit", John Mueller answered a question recently from an SEO who is seeking advice about building a sitemap for a site that offers over two million products. Mueller explained that creating a sitemap manually for such big sites as this is not really the ideal solution.
Here's what the thread says:
"I have a client in a very technical, industrial niche. They sell industrial parts that are similar, but very specific. They have 2 Million + SKUs in their inventory.
My challenge here is to create a sitemap. Because there are so many pages, I have to create it manually. I have a list of URLs broken up by products and categories that our dev team pulled through API. Since sitemaps can only contain 50,000 URLs, I have 37 excel sheets with 50,000 URLs on them each".
The SEO explained the actions he was planning on taking, although Mueller has already stated that creating sitemaps manually is not recommended, so these steps are redundant and unnecessary.
Mueller suggests, "Don't create a sitemap manually like that".
This recommendation was reiterated by the Reddit SEO community. Instead of the publisher manually building the sitemap, Mueller says: "You need to get [the sitemap] from the CMS or the underlying database directly".
Another Reddit user also suggests that acquiring the sitemap from the API where the website development team typically obtain the URL list is also a good solution.
Is this better than creating the sitemap manually?
When it comes to manually creating sitemaps for any website, particularly huge ones, it's important to consider how it will be created and maintained.
Websites containing massive product catalogues are likely to need to add and remove an enormous number of products every single day. Because of that, it would most likely be logistically impossible to manually keep an updated sitemap in this way.
In addition, there would be a vast amount of work that had to be invested in creation of the sitemap initially, in any case.
The SEO in the same Reddit thread saw the light and agreed that Mueller's suggestion of not creating a sitemap manually would be the best course of action.
"Thanks for the wake-up call guys. I agree, this was the plan of action laid out for us and it didn't sit right with me from the beginning"
The advice to create the sitemap manually was apparently recommended by senior staff members of the SEO's company.
This Is The Reason Why Unlinked Citations Is Not Helpful For Rankings
In Twitter, a user asked John Mueller if "unlinked brand citations can help in defining trust of a website / brand". So when you state in your content that 'the Wall Street Journal said X' (but without linking to the WSJ website), will Google understand that the reference has been inserted and assign credit to the Wall Street Journal even there's no link?
Mueller said, "The short version is 'usually not, imo'."
He further said, "The long version is somewhat hard to squeeze into tweet form, and I'm not in the mood to write a long essay, so hopefully the short version is useful as a starting point".
Mueller's response implied that SEO experts could possibly test the effect this has. But in these kinds of circumstances, even if SEOs test it and give their opinion, then Google denies that, who's to say which opinion is right? Nonetheless, unlinked citations may actually help.
In 2016, Google said that there was always a possibility that it might consider unlinked citations in the future. However, it's not yet clear whether this is now the case or not. Back in 2013, Google also said that they don't utilise unlinked citations for rankings, but it's subsequently been tested and proved that they actually do, and can use them for discovery.
In short, it appears that Mueller might be saying that unlinked citations cannot directly help with search engine rankings. However, if they do in fact assist Google in discovery of webpages, then that's at least a starting point for improving your rankings.
These news articles were sourced from https://www.searchenginejournal.com/googles-john-mueller-dont-create-a-sitemap-manually/370176/ and https://www.seroundtable.com/unlinked-citations-google-rankings-29490.html. Check out these links to learn more.
Do you need help in improving your business website and reaching your target audience? Then ask for help from the best SEO company today to make that happen! Find out how our team can help by heading over to Position1SEO.