What You Need To Know About The Upcoming WordPress 5.5 Update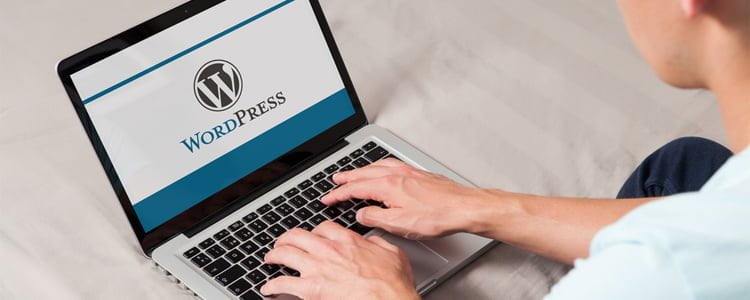 So what should SEO experts and site owners know about the upcoming WordPress 5.5 update? First off, the update will boost the auto-updating features of the content management system to plugins and themes.
At present, the WordPress CMS core is the only one that has the auto-updating functionality. But soon, both plugins and themes can be automatically updated once the stable version of the WordPress 5.5 rolls out.
Presumably, the auto-update feature is being carried on to plugins and themes with a goal to stop site hacks from happening.
Several weeks ago, a story regarding the 8 popular WordPress plugins being exploited by hackers was published. In every case, online hackers were able to take control of a website by exploiting a weak point in the plugin.
Such vulnerabilities can be simply patched through a quick update. However, many website owners install themes and plugins, and then they just forget to update these.
By the time WordPress 5.5 rolls out, website owners can supposedly install and forget about the plugins without worrying as these plugins will automatically update itself.
Long overdue functionality has been in development for months
Since 2019, this feature has been in development, however, it's possibly much longer overdue than such.
In February, the official team of WordPress launched a plugin with this similar capability. However, it's advised to be careful when downloading this since it's currently just a beta test plugin.
The plugin notes mention that this functionality was initially planned for launch in 2019. It didn't dispatch on time, but it wasn't overlooked.
Automatic updating for themes and plugins is now anticipated to arrive with the next WordPress 5.5 version.
Why The Search Engine Giant Should Stop Pushing Search Algorithm Updates During COVID-19 Outbreak
It really is a problematic issue since Google's search results are usually updating on its own, i.e. new content are added, new signals and links, and so on. That's why the Google search results are in a state of uncertainty all the time. However, when it comes to bigger search algorithm updates where Google drives something new, should the search engine giant really quit doing those up until the end of the COVID-19 outbreak?
Somebody at WebmasterWorld stated "Do people agree it would be heartless if Google pulled out another major update at this time? People are already enough on edge with the whole CV crisis."
It is unclear, as everyone wants to maintain things as normal as possible. Normalcy is vital in occasions like these. But on the other hand, if a website tanks due to Google search algorithm updates at this point, it may break some individuals.
Any opinion? Here's the Twitter poll from Barry Schwartz: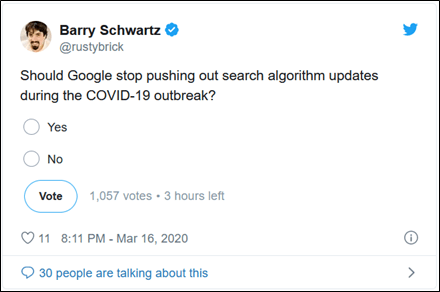 Details discussed in this SEO UK blog came from https://www.searchenginejournal.com/wordpress-5-5-will-introduce-auto-updates-for-themes-and-plugins/355462/ and https://searchengineland.com/16-straight-days-of-rankings-volatility-seos-dig-into-the-covid-19-effects-on-search-332536.  Head over to these links to know more.
Indeed, converting website visitors as your business's regular customers is not that easy. But with the help of a professional SEO firm, this will get a lot easier. Know how we can help you with this by going to the Position1SEO homepage for the details.