How Important Is Search Engine Optimization?
The word SEO often has many stumped, and what search engine optimization actually means in practice can be even harder to grasp.
But does SEO have to be so complicated? At Position1SEO, we believe things are only as complicated as we make them out to be. This essentially means that we simplify the entire SEO process by leveraging our considerable experience to do just what the term suggests. We optimize your websites for better readability by Search Engines.
With the right search engine optimization techniques in place, your website and business are more likely to rank on the first page and be found by prospective customers when they're searching for the products and services that you offer.
At Position1SEO, we pride ourselves on our human touch. Contact us today and we'll be glad to send across some case studies of how we have helped our clients in the past!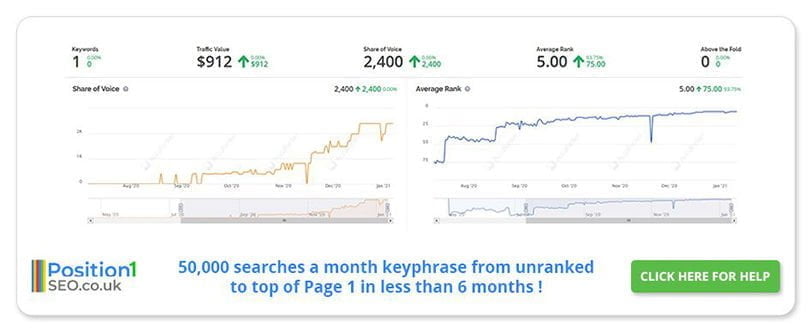 Search engine optimization is one of the most important aspects to think about when you are moving your business online. With the huge amount of competition there is out there on the web, the easiest and best way to ensure that your website will get noticed by the kinds of people who are interested in your business is through Search Engine Optimisation (SEO).
However, doing this yourself is not quite as easy as it might first appear. When it's done well and thoroughly, search optimization involves a great deal of research and planning. More than that, Google's algorithms are changed frequently as the search engine becomes more and more sophisticated, so that they can be certain they're finding the websites their users are looking for.
When you are busy running your own business, it is difficult to keep up with all of these upgrades and you may actually find yourself putting a lot of time and effort into SEO practices that are not helping you over the longer term.
If you find you have a ton of backlinks that aren't giving you any advantage whatsoever in terms of your search engine rankings, this is one possible reason why. Before Google upgrades like Caffeine, Panda and Penguin, many cheap search engine optimization companies' practices included simply creating as many backlinks as possible, regardless of the quality. Now, however, the absolute prime consideration is the quality of those links. The quantity is far, far less important. In actual fact, a host of weak backlinks will do more to hinder your ranking than to help it.
In fact, Google frowns upon link farming to such an extent that your website can even be penalised for being involved. Any professional SEO company worth its salt will be aware of all Google's updates and their possible effects. They will know that in terms of backlinks, for instance, there is now a sliding scale of quality ranging from PR0 to PR7, with PR7 being the highest. They will also understand the exact value of these links to Google and how to create the right quality of links manually to be of the best benefit to your business.
If you want highly effective search engine optimizations for your webpages, but you don't have the time and energy to devote to researching and implementing it to the right degree, then search engine optimization packages from a consultant could well be the perfect choice for you and your business.

Meet Position1SEO – Your New SEO Optimization Consultant
When you are on the look-out for a team of professionals to develop and implement a comprehensive, effective search engine optimization strategy for you, one company you will certainly want to consider is Position1SEO. As part of our work, we offer keyphrase packages which allow you to take advantage of our years of experience in content writing, building web authority and website analysis.
When you select one of our packages from us, we will first do an in-depth audit of your position in the online market which will include, among other things, keyword research. This will tell us the most commonly searched keyphrases that apply to your business. We can then optimise existing or new webpages for these keyphrases so that your customers will be led to your door when they search for the kinds of goods or service that you sell.
All you have to do is choose how many keyphrases you want us to work on. In addition to this, we also offer link building facilities that can either come as part of the overall package or as a one-off purchase to boost that particular aspect of your online presence.
Here at Position1SEO, we combine over a decade of experience with the latest contemporary thought on SEO optimization to provide you with a multi-faceted solution that works well within the guidelines set by Google. We know just how the upgrades Google has implemented will affect you and your website; and we can guarantee that we never use any methods that would put you at the slightest risk of being penalised.

We specialise solely in white hat SEO, which works to build you an organic web presence through manual means. These include methods such as interacting with other people in your sector on daily blog sites and through your social media profiles. This in itself can take up a great deal of time, which makes it tricky for you as a business owner to concentrate on it. By hiring us, however, you can be confident that it is all under control while you get on with running your business. It's the perfect solution.
When you decide to buy search engine optimization from us, we guarantee you won't be disappointed. Within a week of your launch date, we will have completed our analysis and will be in a position to send you reports detailing your current position and what we intend to do to improve it. Each month thereafter, we will send you further reports that detail our progress. Carrying out this analysis also gives us the opportunity to make any changes to improve our strategy.
Why not take a look at our homepage at https://position1seo.co.uk/ to see the details of each of our packages and exactly what we are able to do for you? There's a host of information on our methods, along with testimonials from just a few of our satisfied customers. If you are finding SEO too much to deal with yourself, let us as a forward-thinking search engine optimization company help you with it.
You are very welcome to call and discuss your requirements with us, with no obligation to proceed. Just give us a ring on 0141 404 7515 and we'll be happy to answer all of your questions. Then it's a simple matter of choosing the package that best meets your business needs. Call the team at Position1SEO today!

FREQUENTLY ASKED QUESTIONS
What is the meaning of search engine optimization?
People use search engines to find the content they need, whether that's information or to buy. Search engine optimization (SEO) is the way to get your site seen.
It's a unique combination of art and science which ensures your webpages rank higher than others in search engine results. When people click on your page rather than others', you have the opportunity to sell to them. SEO gives you that opportunity.
How do you do SEO for a website?
Firstly, discover what your customers are actually searching for. Then, carry out website optimisation to ensure pages are geared towards the keywords used in search queries. Your website must be fully accessible in various ways for both search engines and the people using it. Links from other authoritative websites back to your own are a must, as is monitoring your position on an ongoing basis to refine your strategy.
What are the types of SEO?
To fully benefit from SEO, you should focus on three areas: on-page SEO, technical SEO, and off-page SEO. Using these three categories as a guide will enable you to tackle projects in a structured, logical manner. But all three are essential for a well-rounded, effective organic search strategy and successful digital marketing.
Why is SEO needed?
Search engines aim to ensure that the results their users get match their query. In turn, users trust the sites that appear early in search results more. So the closer your website is to the top of the search engine rankings, the more traffic you'll get to your site and the more paying customers you'll get.
SEO creates a website ranking improvement that is essential for generating increased sales.
How can I improve my SEO ranking?
Publish meaningful, relevant content that's refreshed regularly.
Ensure all pages are appropriately marked up with metadata.
Make your site attractive and easy to navigate and build backlinks leading back to your pages from reputable sites.
If you need help with SEO and digital marketing, it's well worth outsourcing the task to a high-quality SEO agency.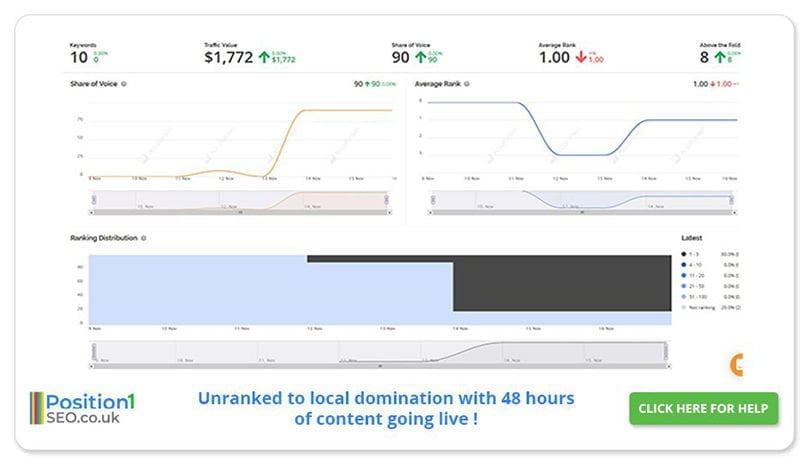 What are SEO tools?
SEO tools help monitor the efficacy of your site and report on how well your website ranking looks compared to that of your competition. Used in the right way, SEO tools can give you a list of actions to work on to improve your site's utility to visitors and therefore increase its visibility.
What are the best SEO strategies?
Brainstorm topics relevant to your business and its market offerings. Research applicable long-tail keywords associated with these topics. Build a new page for each of the topics with keywords embedded in the text.
Blog frequently and aim to generate authority by creating backlinks from worthy sources to your website. Monitor your site's progress and strive to stay up-to-date with SEO best practice.
What are the skills required for SEO?
These are some of the skills needed for SEO:
Technical and programming skills to ensure your site is visible and navigable by users;
Great communication skills to generate well-written, engaging content;
Critical thinking to assess where to spend your time for the best results; and
Patience – gaining the top spot will take time.
A search engine optimization package from an experienced agency like Position1SEO has all these skills and more.
Who needs SEO?
Anyone who wants a presence on the Internet that draws potential customers in and converts them to customers or supporters needs SEO to make that happen.
Particular groups benefiting from SEO include small businesses and start-ups; niche companies; local companies; companies in highly competitive industries such as hospitality; and companies without physical retail premises. Search engine optimization packages in the UK can assist if you're struggling with the concepts.
What are the elements of SEO?
Understanding your audience and your industry helps give you insight into user intent. This, along with research, assists with identifying the right keywords to use when creating content for your site.
Understanding how search engines crawl and index your site, and how to use analytics and reporting to monitor its progress, helps you target your SEO efforts more precisely. A good working knowledge of technical SEO is essential too.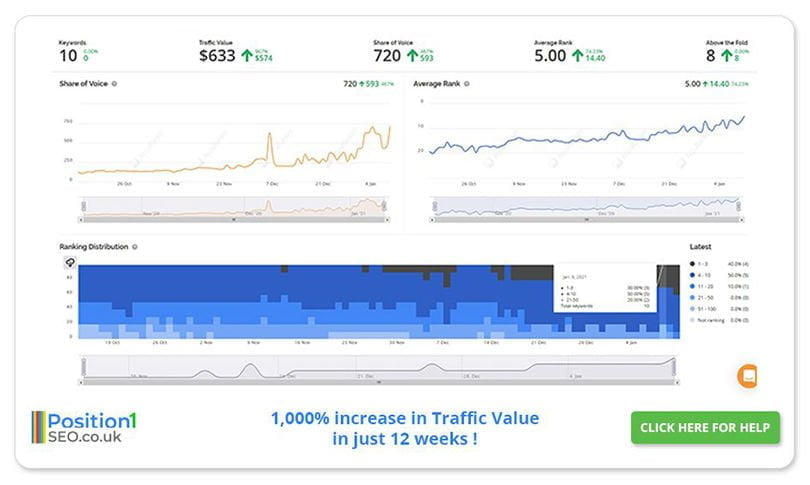 SEO Tips For Bloggers
Always keep at the forefront of your mind that quality of content is the most important factor in search engine optimizations. You must identify what information your readers are looking for and address that in a meaningful, engaging way.
Use knowledge of your readers to isolate the keywords they'll likely use when searching for blogs like yours. Optimise your site with those keywords, including them in title tags, alt-tags, your post title and in the text itself.
Request links from your blog to further information on topics elsewhere on your website.
Create backlinks from other authoritative sites to your own.
WordPress SEO Guide For Beginners
First, make sure your site is visible to search engines in the Settings > Reading page. Then, use SEO friendly URLs so search engines and users alike can see what each page is about.
Use WordPress plug-ins like Yoast to guide you through setting up the right SEO on your pages.
Add an XML sitemap so the search engines can find, crawl and index all your pages.
Use keyword research tools to ensure you're targeting the right keywords.
Use Categories, Tags and internal linking to help users find the content they're looking for.
Blogger's Guide To Search Engine Optimization
Blogging is a long-term game. You won't get instant results, but do it well and you'll reap the rewards consistently over a long period of time.
Focus on both on-page and off-page optimisation. The former means having a good working knowledge of what your users are searching for and addressing that in your posts. The latter means building trust and authority by gaining quality inbound links from credible sources.
Use good SEO tools and plug-ins to help you write posts that appeal to both search engines and users. Alternatively, find cheap search engine optimization services with a good track record.

A Researcher's Guide To SEO
As a researcher, you want people to see, comment on and discuss your work. To make it more easily discoverable, focus on these five areas:
Select the keywords your ideal reader will use when searching for articles like yours.
Make sure your title is accurate, concise and search engine-friendly.
Use external link-building to influence your authority.
Use social media to publicise and draw readers towards your article.
Use an SEO checklist to make sure you have all the bases covered.
SEO 101
A very small percentage of users click on paid ads, instead preferring organic results instinctively. SEO is the art and science of making your pages more attractive to users than your competitors'.
Get SEO right and your web pages will see a search engine improvement in rankings that will draw in more traffic. More traffic means more opportunities to convert those visitors into customers.
Don't expect to see results immediately, but do be aware that over time, organic SEO will gain you lasting results, so it's well worth the time you devote to it.
If you see the benefits search engine optimization marketing services could have for your business, and don't have the time or resources to learn the ins and outs yourself in-house, you need a talented agency to do the work for you. Speak to Position1SEO. With over a decade's experience and a good track record in the field, we can get you to where you want to be – top of the search engine results for your niche. Call us today to start the conversation on 0141 404 7515.