What You Need To Know About The Spam-Fighting Efforts Google Employs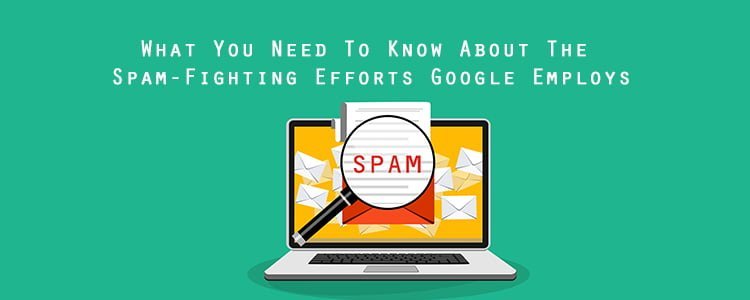 Recently, Google published its annual webspam report, containing the company's spam-fighting efforts for the past year. But what could SEO experts and site owners get from this report?
First off, the report says that over 99% of the search results from Google are free from spam, and the company puts a lot of effort into ensuring that.
For example, the webspam team at Google finds about 25 billion spam pages each day, and all of these are filtered out of their search results index.
According to the company, "That's a lot of spam and it goes to show the scale, persistence, and the lengths that spammers are willing to go".
Google's Annual Webspam Report Highlights
In 2019, Google received around 230,000 search spam reports, and its teams were able to respond with action on a total of 82% of the ones they processed.
Google said that this achievement is in part attributable to its efforts to enhance its machine learning systems' spam-fighting capabilities, which was one of the company's top priorities last year.
Google states, "Our machine learning solutions, combined with our proven and time-tested manual enforcement capability, have been instrumental in identifying and preventing spammy results from being served to users".
Spam Fighting Success At Google
Because of the company's spam-fighting efforts, user-generated spam has been prevented from causing major harm. In 2018, the incidence of these spammy pages was reduced by 80%, and last year didn't see the amount grow any either.
While link spam is still a factor today, Google is by the same token on improving its ability to detect it. The company also revealed that link exchanges and paid links are far less effective today than they ever have been.
Google said, "More than 90% of link spam was caught by our systems, and techniques such as paid links or link exchange have been made less effective".
The company also highlighted improvements in their efforts to fight spam websites that feature scraped or auto-generated content. These types of websites usually engage in activities that either harm or annoy searchers.
For instance, that includes websites using deceptive elements like an overwhelming volume of advertisements, malware and suspicious redirects.
And in 2019, the company was able to reduce that type of spam's impact on its searchers by over 60% compared to 2018.
Webmaster Outreach
Last but not least, Google is proud of its webmaster outreach efforts that are focused on fighting spam.
When the company discovers spam, it informs the site owners via Google Search Console. And last year, over 90 million of these alerts were sent to site owners. From that number, around 4.3 million were linked to manual actions caused by violations of Google's Webmaster Guidelines.
Spam Fighting Importance
At the same time as this report, Danny Sullivan of Google wrote a separate blog where he discussed the importance of keeping spam out of the search results.
"Without our spam-fighting systems and teams, the quality of Search would be reduced–it would be a lot harder to find helpful information you can trust.
With low-quality pages spamming their way into the top results, the greater the chances that people could get tricked by phony sites trying to steal personal information or infect their computers with malware".
The takeaway message from this is that it's quite clear that delivering top quality search results isn't just about improving complex algorithms. Fighting spam is just as important, and Google puts a great deal of resources into that too.
What We Know About Brand Based Queries
In Twitter, Google was recently asked a question about the influence of brand based queries in the search rankings. Google' Gary Illyes replied that it's a tough question to answer for several reasons.
The tweet question reads, "do "Brand" based queries and/or clicks via the SERPs hold any influence with Google scoring pages for the SERPs (be it authority, trust, ranking etc.)"
Gary answered this by saying, "This is an insanely hard question for Twitter. If you search for [tinfoil hat Amazon], the intent is clear for you, but if it's a new site, for algorithms ain't. Rankbrain, for example, uses historical data to build that confidence, but we have tons of signals that can help".
By breaking down Illyes' answer, you can assume that Google is confirming they do understand that searches with "Amazon" in their queries are looking for results from Amazon.com. But if you're searching for results from a new e-commerce website that Google doesn't know well yet, your search will not get results in quite the same way as a query with Amazon in it.
Gary stated that RankBrain utilises historical data to better understand queries over time. However, there are signals and algorithms that do the same things.
Here are the tweets:
Details used on this SEO blog came from https://www.searchenginejournal.com/google-finds-over-25-billion-spammy-pages-every-day/371665 and https://www.seroundtable.com/google-on-brand-based-queries-influence-29582.html. Check out the links to find out more.
Don't have enough experience to handle your online business's social media campaign? Then find the best SEO professional to hire for the job. Find out how our team can help you by visiting Position1SEO.