What You Should Know About All Websites Moving Over To Mobile-First Indexing By September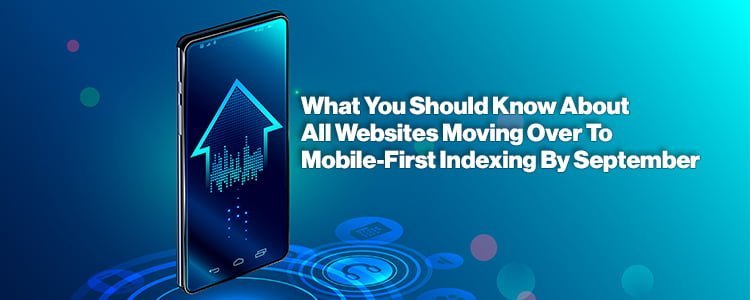 According to Google, approximately 70% of websites have already been transferred to mobile-first indexing. In line with this, SEO companies and webmasters are reminded that the other 30% is going to be moved over by September and no later than that.
It is fantastic to finally have a date for this change because it allows websites dealing with issues regarding responsiveness to catch up before the smartphone Googlebot takes hold a few months from now.
Even though this transfer to mobile-first indexing cannot be changed, Google won't completely let go of the traditional desktop Googlebot. Every now and then, Google will crawl using the desktop Googlebot after September. Even so, all crawling for Search will be carried out with the smartphone Googlebot, without any exceptions.
Log In To Google Search Console To See If Your Website Has Moved Over
Google sends out notices to the websites on which mobile-first indexing is turned on. Regardless if your website is ready for this particular update or not, take note that Google will transfer it to mobile-first indexing no matter what.
To prepare for the move, give all the important information to the smartphone Googlebot as found on your website's desktop version. Be sure that your canonical and hreflang labels are directing to the proper pages, check that you are not restricting any indexing or crawling on your website and, if you haven't done before, add your mobile website to Google Search Console. Furthermore, check if you have Schema markup included and that you are not concealing links or texts on any of your webpages.
It is possible your website has been transferred already to mobile-first indexing. After all, Google started this change in 2016. Since then, some people have acquired messages from Google in case their website hasn't been moved over yet or if the mobile-crawler is having issues accessing their website.
Check Out The Best Practices For Mobile-First Indexing From Google
Following these guidelines, you're making sure your website continues to perform effectively. Utilise URL Testing Tools or other trusted tools for analysing websites to check your website's mobile and desktop versions and ensure you match what Google Search sees.
This Is Why Google Still Favour Links Over Heading And Titles For Pagination
How does Google understand what pages are in a set of pagination? Since the rel prev and next now out of support, Google has provided a different advice. John Mueller of Google was asked about this in a video hangout last week. Even though he stated that it is somewhat helpful to have page numbers in your headers and titles, what matters more is your internal navigation links.
In the Google Webmaster Hangout, John answered the query by stating that while page titles and headers with the number of page set assist Google even a little. He explained that what Google really wants to accomplish is to see next and previous buttons inside your paginated content navigation and establish what is part of the set.
Here is the transcript:
Headings and page titles kind of help us with paginate series to understand that these series belong together. So if they're the same or if you have something like a number in the headings and titles, then that helps us a little bit.
But we can also generally figure this out through the links on the page. Where we see well this one has like a link to the next page and it has a link to the previous page, then maybe that's like a part of a series that we can hold together.
With regards to duplicate content, with regards to the kind of the header on a page the general layout of a page like this that's something you generally don't need to worry about.
So we would recognize this as duplicate content but it's not that we would demote the website because of that. It's more that we recognize there's some blocks of text on this page that are the same as other pages on your website. So if anyone is looking specifically for something within that block of text then that's something where we try to find the most appropriate version of that piece of content on your website. But it's not the case that we would say well this piece of text is duplicated multiple times so we will treat this website as being bad.
So from that point of view usually this kind of pagination where you have blocks of text or images that are shared across different versions, that's perfectly fine.
It is unsure if this is helpful only until Google gets it wrong. However, the task of ensuring that the search engine would not be wrong will be left to the SEO experts.
All information in this post is fromhttps://www.searchenginejournal.com/technical-seo/mobile-first-index/ and https://developer.wordpress.org/reference/functions/paginate_links/. Click the links to learn more.
Availing of SEO services can deliver you the best results in terms of rankings, performance, traffic, and conversion, but only if you find the right specialist to hire. Check out our homepage at Position1SEO and learn how we can help.